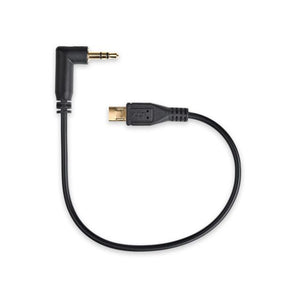 Tentacle Sync Tentacle to Micro-USB Timecode Cable for Sony FX-3 / FX-30
An adapter cable that feeds timecode from any Tentacle SYNC E & ORIGINAL timecode generator or TRACK E to a SONY FX3 and FX30 via the Multi/Micro USB Terminal. This is a low cost and smart alternative to the original Sony BNC adapters.
Please note: This adapter cable is only intended for use with a Tentacle ORIGINAL/SYNC E/TRACK E unit in conjunction with a SONY FX3 or FX30. For use with devices from other manufacturers, we can not guarantee whether this works or exclude that damage may occur!
Features:
Direction: Tentacle to Multi/Micro USB Terminal (SONY Multi-Camera Control Connector)
Right-angle 3.5 mm mini jack (3-pin)
Straight 15-pin Micro-USB Multi connector
Length: 25 cm / 7.9"
Weight: .038kg
Dimensions: 12.2x1x18cm