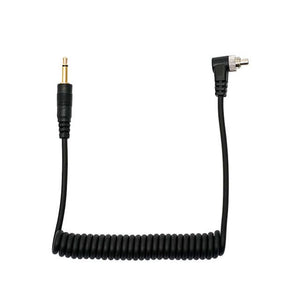 Tentacle Sync Cable - Tentacle to Flash Synchro Socket (GH5s)
Key Features
For Use with LUMIX S1H / GH5S Cameras
Feed Timecode to Compatible Devices
3.5mm Connection for Tentacle Sync Boxes
Flash Synchro Connector for PC Sockets
The Tentacle Sync C20 is an adapter cable suited to devices with Flash Synchro Sockets, such as the Panasonic LUMIX S1H and GH5S cameras. With this 11.8" coiled cable, users can feed timecode from their Tentacle Sync boxes to any device with a PC timecode input. The cable offers a 2-pin 3.5mm connection for Tentacle Sync boxes at one end and at the other, the cable provides a right-angle Flash Synchro connector.