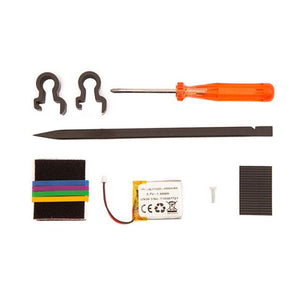 Tentacle Sync SYNC E - Battery Replacement Kit
Battery Replacement Kit for the Tentacle SYNC E timecode generator (2017- ).
Including:
Lithium Polymer Battery
Velcro Hook Tape
Spatula Tool to remove Battery
Phillips Screwdriver
SYNC E Accessories
Description and a QR-Code that will direct you to a detailed video tutorial.
Note: Please do not buy this item in stock, in case your battery life might shorten in the future. Please note that the battery has a shelf life of only 6 months when stored. If you need more than 4 of these kits, please contact support@tentaclesync.com. This kit is for Tentacle SYNC E units that are outside the 2 year warranty. If your device has battery problems within the warranty period, please contact us at support@tentaclesync.com prior to purchase.