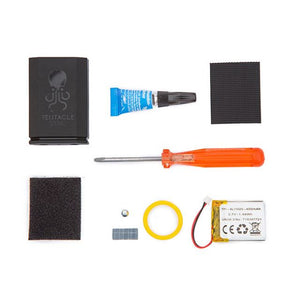 Tentacle Sync ORIGINAL - Battery Replacement Kit
Replacement set with battery & housing for the Tentacle ORIGINAL timecode generator (2015-2017).
Content:
Lithium polymer battery
Tentacle ORIGINAL housing
Velcro hook tape
Rubber ring
Foam rubber strips
Fleece package
Phillips screwdriver
Superglue
Instructions for use
Note: Please do not buy this item for stock in the event that the battery life could shorten in the future. Note that the battery has a shelf life of only 6 months when stored . If you need more than 4 of these sets, contact us at support@tentaclesync.com.