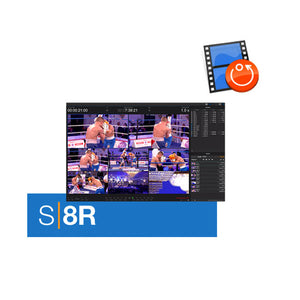 Softron S|8R (8 Channels Instant Replay, Dongle Included)
Replay up to eight channels of HD (up to 60p) on one Mac.
8 channels replay software solution for your Mac
Easy instant replay on the Mac
The S|8R is a software bundle for the Mac that includes 8 licenses of M|Replay in a USB dongle. With the S|8R, you can enjoy all the amazing features of M|Replay.
Replay is done using the included eight licenses of M|Replay. You can set M|Replay to use any combination you want (and your computers supports). Six inputs and 2 outputs is very common in replay workflows.
Supported video devices
The S|8R is a software bundle. You will also need a video device to capture and output your video feeds. Softron is compatible with AJA, Blackmagic-Design and Deltacast devices. Make sure to select the device that best fits your needs. Note that we also do hardware and software bundles in which we provide you also with the video device that you can then just plug into your Mac computer.
Supported formats and codecs
Check the list of supported codecs on our website on the M|Replay pages. Note that depending on the Mac that you use, the format and codec, limitations may apply.
What's Included?
8x licenses of M|Replay (replay)
1x Dongle with the software licenses above (no changes or splits)