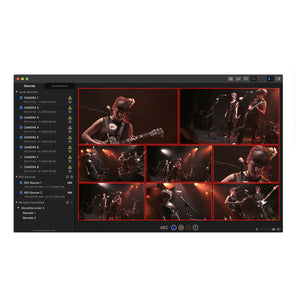 Softron MovieRecorder 4 (Upgrade from MovieRecorder 3, No Option, 4 Pack)
Multichannel edit-while-ingest on one Mac
NEW in MovieRecorder 4


Fully configurable user interface 


NDI® sources


External audio sources


Effects and overlays


HEVC (H.265) support


Save and restore configurations


"Express" version


Ten years after the release of the first version of MovieRecorder, we are bringing another major (r)evolution to ingest solutions with MovieRecorder 4 and MovieRecorder Express 4.
MovieRecorder 4 is even more flexible now. The new sleek user interface brings a lot of clarity, while the support for NDI sources, external audio, and effects and overlay features allow you to use MovieRecorder in more workflows and configurations. MovieRecorder Express is our "lite" version of our ingest solution, and is the most affordable broadcast video recorder on the Mac.
NEW Revamped User Interface.
We tried to make MovieRecorder 4's new user interface even easier to work with — and more flexible, as well.
The first thing you will notice, beyond its darker look, is that the size of the Viewers are now fully customizable. Select the number of Viewers you want to display at once, and then choose the layout that best suits your needs. MovieRecorder comes with a whole set of preconfigured layouts, but you can also customize them yourself.
All the overlays can now be turned off if you just want to preview the video and not be distracted by their presence.
There are even more additions, such as the ability to switch the position of two sources, or enable/disable/solo a destination on all Viewers at once.
At NAB 2017, we announced the ability to output to NDI® with all our playout software, and it proved to be very successful, with a lot of customers embracing the new technology. It is only natural that we now support recording those sources in MovieRecorder. NDI® is an open, low-latency, video-over-IP protocol developed by NewTek™. It uses a simple gigabit ethernet cable to transmit video and audio over a local area network between multiple video systems. Now, thanks to NDI®, you can transfer HD and 4K video over a simple Ethernet cable. There is no need for additional routers or even SDI cables anymore,  further demonstrating the ease-of-use and reliability of our products. NDI® opens the world to a different way of doing video production and to an ecosystem of devices supporting the protocol.
NDI® is a registered trademark of NewTek, Inc.
The ability to use external audio sources (including MADI) instead of SDI embedded audio will help those who want to record the audio coming from an audio mixer without the need of expensive SDI embedders. MovieRecorder 4 supports all the audio sources that are available to the macOS. Coupled with the Audio Mapping available in the AVPresets, this brings a lot of flexibility to your Audio configuration.
You can now crop, deinterlace, rotate, and resize your video before it is encoded. We've had multiple requests for the ability to rotate the signal 90° for display on LCD monitors placed sideways, or to crop portions of the image. You'll also love the ability to overlay text, the current timecode, or even an image to your recording. As it's a "per destination" setting, you can have one signal recorded with overlays, and another as a clean recording. The multiple destinations available with MovieRecorder will be even more handy with this new feature!
With the advent of 4K, an even more efficient codec than H.264 was needed. This is why HEVC/H265 has been created. Files can be compressed to 40% of the size of an H.264 compression without losing quality. But that encoding efficiency required a lot of horsepower, and even the highest end Mac Pro was not able to encode to HEVC in real time. And for MovieRecorder, as we encode live, we need real time! 
With macOS 10.13, Apple has added the ability to use the HEVC hardware acceleration available on some computers (those running the 6th Generation Intel Core and over), allowing us to fully take advantage of the codec.
Save and Restore Configurations.
Often you will have different shows running in the same studio, with different requirements. The camera names will change, you may need to record to a different storage, or with a different codec, etc. Thanks to the "save and restore" feature, you will now be able to save multiple configurations and restore them in seconds. This will make your workflow much smoother. The feature can also be used if you want to keep a backup of a configuration before running tests on a new show, with new setups, etc
CC and Pro-codecs options now included in standard license
With MovieRecorder 4 the Closed Captioning and Pro-codecs options are now included in the standard license. If you want to record to an MXF wrapper, or if you want to record to AVC-Intra, AVC-Intra, DV/DVCPRO, DNxHD, IMX, JPEG2000, XDCAM or XAVC, it is no longer necessary to purchase a separate option.
We have decided instead to offer two different applications: the exceptionally affordable entry-level MovieRecorder Express, with a more limited functionality and codecs set, and MovieRecorder, which offers all the advanced features that you may need for your production. We just want you to pay the right price for the features you need!