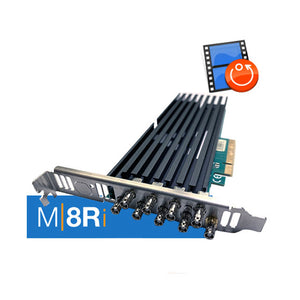 Softron M|8Ri (8 Channels Instant Replay, Dongle Included)
Replay up to eight channels of HD (up to 60p) on one Mac.
High-density capture and playout device
8 channels all-in-one box solution for your Mac (with PCIe slots)
4K compatible (Quad-link or single-link)
Audio LTC input
Easy instant replay on the Mac
The M|8Ri is a hardware & software bundle tailor made for Macs with PCIe slots such as the latest 2019 Mac Pro, or in your own Thunderbolt expansion chassis. Simply plug in the M|62i PCIe card into one of the PCIe slots of your Mac and immediately start replay up to eight HD channels or two 4K Channels (or four HD and one 4K) at a cost significantly less than other multichannel solutions.
With the M|8Ri , you can enjoy all the amazing features of M|Replay in a certified hardware and software bundle. We have gathered what we think are the highest quality hardware components in order to ensure the best experience possible. You receive eight licenses of M|Replay, together with one eight input video device.
Replay is done using the included eight licenses of M|Replay. You can set M|Replay to use any combination you want (and your computers supports). Six inputs and 2 outputs is very common in replay workflows.
The licenses are provided on a dongle, so it's easy to move your M|8Ri from one computer to another.
The M|8Ri is compatible with 4K. You can use either Quad-link or Single link (12G) to replay 4K at up to 60 frames per second. When using 4K, you can replay only two channels instead of eight (even in 12G).
The M|8Ri uses the state of the art DELTA-12G-elp-h 2c video card, which hosts eight independent channels that can be used either as inputs or as outputs. Two of these channels supports line rates up to 12G SDI while the others go up to 3G-SDI, allowing the support of formats from SD to UHD. The 9th connector can be used as an Audio LTC input .
Supported formats and codecs
Check the list of supported codecs on our website on the M|Replay pages. Note that depending on the Mac that you use, the format and codec, limitations may apply.
Number of simultaneous inputs supported?
With the M|8Ri, depending on the Mac that you are using, the codec and format, with M|Replay, you could be able to replay up to:
7x HD inputs + 1x HD Outputs
6x HD inputs + 2x HD Outputs
5x HD inputs + 3x HD Outputs
4x HD inputs + 4x HD Outputs
3x HD inputs + 4x HD Outputs
1x 4K input + 1x 4K Output
The 4K connection can be done using either quad-link or single-link.
Note that in M|Replay, the input and output formats must be identical.
What's Included?
8x licenses of M|Replay (replay)
1x Dongle with the software licenses above (no changes or splits)
1x Video card with 8x configurable in/out + 1x Ref input (or Audio LTC) on Micro BNC connectors (DELTA-12G-elp-h 2c)
1x Low Profile Bracket (so you can place the Video card in a low-profile PCIe slot, as in the Sonnet Echo Express SEL)
9x BNC Female to Micro BNC (HD-BNC) Cable - 1'