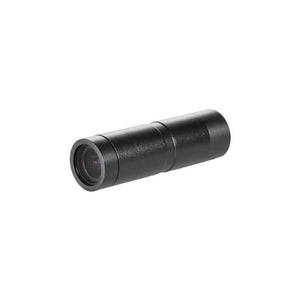 Salrayworks lipSHOT 1/2.8'' Exmor R CMOS Sony IMX327 Ultra-Low Latency POV Camera (IP67, 50/60/25/30 FPS)
Resolution 1920×1080 60p/59.94p
Ultra Low Latency 0-30 mm 
Sub-Latency 0-15 mm delay
Pre-Select to either lens 2.9mm or 4.3mm
Output 3G-SDI,CVBS
Protocol / Communication
VISCA, PELCO-D/P, RS-422/485
Multi-input Audio/IR remote
Patented Camera OSD
Powerful Weather Proof IP 67
Ultra Low Latency POV Camera
Interactive web broadcasting, which is an increasing trend these days, requires viewers to participate and intervene in broadcasting in near real-time, such as Games, Stocks, e-Sports, IOT, Autonomous If the latency of 3 seconds as in existing broadcasting, people suffer from discomfort and will not even use it. So this service cannot keep going. 
Full HD image quality with 60fps frame rate
1920×1080 60p/59.94p
See every presenter or conference participant more clearly. The 1/2.8-type Exmor R CMOS image sensor captures smooth, crisply detailed, Full HD (1920 x 1080 60p/59.94p) images with extremely low noise – even in low light conditions where other cameras struggle. High frame rate (60/59.94fps) operation ensures smoother, more fluid reproduction of moving subjects.
Applicable with various lens 2.9mm/4.3mm
We provide a default lens that has an angle of view of 120°/80°. However, in case any other type of lens is required, it can be supported(other lens should be additionally purchased).
Multi-format output video
with 3G-SDI,CVBS
The POV VWS series can simultaneously output 1080/60 or 59.94p baseband video through 3G-SDI.  Also, it supports CVBS so that our customers can easily set up with it. This capability makes the camera ideal for simultaneous recording of conferences, lectures, seminars and other live events.
Versatile connectivity options
VISCA, PELCO-D/P, RS-422/485
Support for RS-422 and 485 communication allows easy connection with a wide range of peripheral products. The camera can also be controlled via VISCA, PELCO-D/P protocols.
Protection from water, dust, dirt and sand by IP 67 weather proof
Weatherproof IP67 rated Housing for outdoor applications. Water protection submerged up to 1m (3.2′) – total protection against dust, dirt, sa