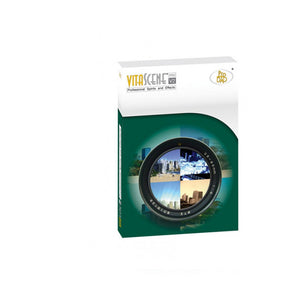 VitaScene V2 Pro Professional Effects: The Extended Edition
All-out professional quality – extremely fast rendering – interactive preview – efficient handling – 64-bit NLE compatibility
VitaScene V2 Pro builds on V1's trendsetting transition and filter technology, setting the bar even higher by delivering a host of powerful new effects in stunning broadcast quality. VitaScene V2 Pro includes over 600 fully customizable effects that can be used independently and are rendered super-fast by a graphics card's GPU. Works great with Adobe® Premier Pro CS5 and Sony Vegas Pro 64-bit versions.
VitaScene V2 offers even more!
From a technological point of view, VitaScene V2 offers even more with improved GPU processing and the newly added 64-bit compatibility with CS5 and Vegas Pro 64-bit editing programs. As a result, a graphics card with 512MB RAM and Shader Model 3 are now required.
New plug-ins for additional editing programs such as Corel Videostudio are now included. A few other functions have been further optimized and the Alpha Channel process has also been improved.
VitaScene V2 Pro – professional - uncompromising - fast- interactive – efficient
Professional Effects – perfect display – super fast GPU processing – efficient handling
All this is VitaScene! V2 is even more extensive.
Over 600 movie compatible effects for


Lighting with light sources  


Impressive light beams


Gleaming, glowing and reflections


Optimizing of contrasts and focus


Optimizing of color and brightness


Beveling and impressive text effects for title and logos


Usable as filter as well as transition
 


Superfast rendering, HD or SD projects


Easy to use


Extensive use


Extensive plug-in support of popular editing programs


Optimized and compatible for 64-bit NLEs


Differences between Vitascene V2 PRO and Vitascene V2 LE
| | | |
| --- | --- | --- |
|   | VitaScene V2 PRO | VitaScene V2 LE |
| Number of Effects | Over 600 | Over 100 |
| Detail setting for effects | Yes | No |
| Key frames | Yes | Yes |
| Pinnacle Studio Plugin | Yes | No |
| Magix VDL Plugin | Yes | No |
| Adobe Plugin | Yes | Yes |
| Sony Plugin | Yes | Yes |
| Avid Plugin | Yes | Yes |
| Corel Plugin | Yes | Yes |
| Canopus Plugin | Yes | Yes |