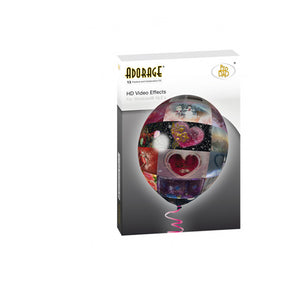 Adorage Effects Package 13
"HD-Festival and Celebration FX"
Family, Festivities, Parties – Fun Effects for the beautiful moments in life!
For your spectacular films and documentaries: Hundreds of elaborate video effects and transitions in HD quality.

Kids
Rings heart animation
Pigeons heart animation
Lighteffect
Landscap book text animation
Family
Be it your child's birthday or a wedding celebration – Your memories become heirlooms of your special moments with the support of professional effects, which are backed by sophisticated 3D-animations.
Parties and Celebrations
Christmas or anniversary, Adorage 13 offers once again high-quality 3D-animations, pre-created as video or transition effect, to beautifully support your creation with sophisticated animations and effects.
Love and Romance
Accentuate romantic moments in your wedding documentary, or a film about your family by utilizing accessory-effects such as rings, hearts, bells, and much more.
Adorage offers detailed precompiled 3D-objects, which can be combined to elaborate on the romantic atmosphere of your creation, while being easy to use.

Ambience and Symbols
Sophisticated 3D gift boxes, the symbol of peace in form of doves, flowers or video albums – Adorage 13 offers versatile animations, tricks, and effects – easily accessible via mouse click, which can be turned into unique and high-quality effect compositions.
Frames and Filter
Adorage 13 also offers, via mouse click, fascinating framing effects and compositions that evocatively accentuate your scenes.
Universal Effects
This package offers many effects with universally applicable themes. Popular light effects and particle animation, or a combination of both, extremely fast and easily generated, can be added to your creations – no matter what genre.
Short-Clips
Numerous prepared animations relating to a variety of subjects offer a base for your trailer, to your opening and closing credits, or simply as background of picture-in-picture effects in your editing.
...................................................................................................
System requirements:
Adorage 13 for Windows®
From Win XP SP2, 2GB-memory,
recommended i7+Win7-64bit, 6GB
1,5 GB free hard disk space
Instructions for installation you find here.
An actual list of supported plug-ins you can find here
Customer support
Service and content customers are very important to us, and we try to have happy customers at proDAD.
Please read here what other users have to say about the customer service at proDAD.
Adorage Effects Package 13
"HD-Festivities and Celebration FX"
· Attractive user interface, self-explanatory, effective workflow: With Adorage 13 you will create excellent video compositions in no time.
· All effects are on demand with the simple click of a mouse: Chose the effect, position and individualize it.
· Compositions, short clips and more are fit seamlessly together with your own video material.
· Video and photos are equally suited since Adorage 13 works with both.
· Show your audience your most beautiful moments.
· Create unique video collages.
· Adorage offers you a large choice of effects and transitions in excellent HD-quality.
· Atmosphere in videos is created effortlessly – fast, smart, professional.

Adorage Effects Package 13 offers hundreds of modifiable effects and transitions for themes such as family, celebrations and party. Complete in HD, with 64-bit support and plugins for the best editing solution: excellent quality of effects, extremely fast analysis, professional results.