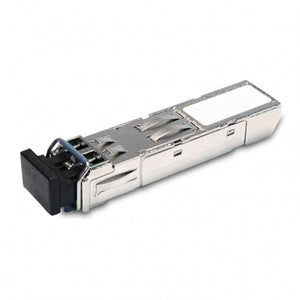 This transceiver offers to increase the distance coverage of your GigaCore Ethernet switch, by using a single-mode fiber link. Up to 10 km. Fiber Compatibility
This hot-pluggable transceiver is capable of implementing both Single Mode (SM) and Multimode (MM) optical fiber applications in that order of precedence in the event of conflicting specifications. In addition, the SM link type exceeds the 2 m to 5 km 1000BASE-LX specification by achieving compliance over 2 m to 10 km.
Operating temperature from -40 to 85° C
Recommended Operating Conditions are those within which functional performance within data sheet characteristics is intended. This SFP Transceiver can operate in temperatures between -40 and 85° C.
Compliant to IEEE 802.3 Gigabit Ethernet (1.25GBd) 1000BaseSX
The MMF Transceivers are compliant with the specifications set forth in the IEEE802.3 (1000Base-SX) and the Small Form-Factor Pluggable (SFP) Multi-Source Agreement (MSA). Its primary application is servicing Gigabit Ethernet links between optical networking equipment like f.e. the GigaCore 16Xt or 26i.
Eye safety certified
The transceiver provides Class 1 eye safety by design. The eye safety circuit continuously monitors optical output power levels and will disable the transmitter and assert a TX_FAULT signal upon detecting an unsafe condition. Such unsafe conditions can be created by inputs from the host board (Vcc fluxuation, unbalanced code) or faults within the module.
Diagnostic Monitoring
The DDM function provides component monitoring on transceiver applications in details. A DDM interface can include a system of alarm and warning flags which alert the host system when particular operating parameters for transmitted power, received power, laser bias current, temperature or supply voltage are outside of a factory set normal operating.
Receiver Loss of Signal (RX_LOS)
The receiver section contains a loss of signal (RX_LOS) circuit to indicate when the optical input signal power is insufficient for Gigabit Ethernet compliance. A high signal indicates loss of modulated signal, indicating link failure such as a broken fiber or a failed transmitter.
When distance matters: Fiber to the rescue.
Elaborated models from the GigaCore range, such as the 16Xt or 26i, are equipped with SFP cages for Fiber connectivity. By connecting an SFP transceiver to those cages, you will be enable to cover greater distances with Fiber cables, offering a total link immunity up to 10km!