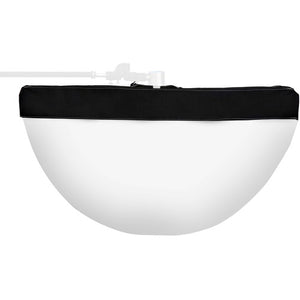 Key Features
Creates Soft 180° Light Source
Diameter: 48"
Depth: 19"
1/2 Diffusion Cloth
Flat Top Maximizes Overhead Space
Heat-Resistant Construction
Maximum Wattage: 2000W
Zippered Storage Sack Included. Create a soft 180° light source ideal for overhead lighting with the large Pancake Lantern from Chimera. This model measures 48" in diameter with a depth of 19" and has a flat top that makes it easy to place near a ceiling. Also, this model has a 1/2 diffusion cloth . This lantern is designed for fixtures with wide beam angles or bare-bulb lights and it has a heat-resistant construction that permits the use of lights up to 2000W. Additionally, it comes with a zippered storage sack and it works with a range of separately available speed rings for attaching to your lights.