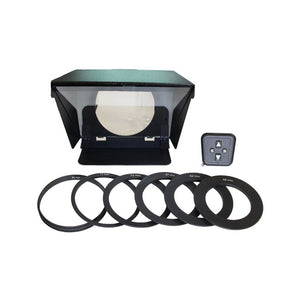 Fortinge MIA Mobile Prompter for Streamers to attach to DSLR Cameras
Talking to the camera is becoming much more easier, under all conditions, with the MIA Mobile Prompter. Just take it out of your pocket and set it up in seconds without any tools, attaching it directly on your camera's lens. 
The MIA Mobile Prompter is adaptable with DSLR cameras & comes with 5 different choices of lens adapter rings;58mm, 62 mm, 67mm, 72mm, 77mm, 82mm. MIA is compatible with smart phones up to 5.8" size & 125 mm length. The package alsoincludes the free download prompter app that is compatible for both IOS & Android. Plus the bluetooth hand remote is available to control the speed of the text along with scrolling through the pages, stop and/or pause as well.