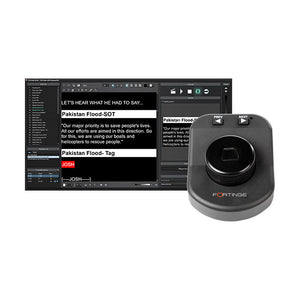 Fortinge ForPrompt Prompter Software & JC1 Hand Control Device Bundle
ForPrompt Prompter Software 
Key Features
Plain Text in All Windows Languages
No Script Shadows at All Speed Settings
Keyboard, Mouse, Touchscreen Scrolling
Also Supports ShuttleXpress Surfaces
Adjustable Size and Color
Flipped Mode Capability
Shortcut Keys
Windows Compatible 
The Fortinge ForPrompt is a Windows-compatible prompter software that uses plain text (TXT) and supports all Windows languages. The scrolling of the script can be controlled by a keyboard, mouse, touchscreen monitor, or any of various ShuttleXpress control surfaces, sold separately, and there's no shadow in the script even when it's set to the fastest mode. The size and color of the text is selectable, and it can be switched to display in flipped mode if required. Many of the the application's functions can be used with shortcut keys.
Key Features
            Plain text (TXT) in all Windows languages
            Controllable using a keyboard, mouse, touchscreen monitor, or ShuttleXpress control surface, sold separately
            Script displays without shadows even when set to the fastest speed
            Selectable text size and color
            Flipped mode capability 
Fortinge is proud to present 'ForPrompt Studio', our full-scale teleprompting software application.
We designed it for live broadcasting environments and can be used in every level of broadcasting studio. It is compatible with all major newsroom systems via MOS protocol**.
ForPrompt Studio has multi-language support, updates in real-time, and rich text-file support. ForPrompt Studio is a comprehensive, invaluable solution for challenging live broadcasts.
ForPrompt Studio
ALL FEATURES
MAIN
* Full Unicode Support
* Auto Update in Story List
* Remote Control via Network TCP/IP
* Smart Rich Text Editor
* Various File Formats Support (txt, rtf, docx, html)
* Drag&Drop Files From Explorer
* Go to Active Story
* Easy Story Navigation
* Right-to-Left Editing
RENDERING
* Smooth Text Flow
* Live Update During Prompt
* Dynamic Fast Text Rendering
* Prompter Auto Update
* Smart Live Update Algorithm
* Smart Screen Scaling
OUTPUT DEVICE
* Decklink Cards Support with HD/SD SDI Output
* Multi-Monitor Support
* Easy Change Display Devices
CONTROLLER
* Plug&Play Controller Devices and RF Remote Controllers
* Status List of Controller Devices (like battery, distance etc.)
* Foot Switch Plug&Play Controller
* Pen Mouse Plug&Play Controller
* Contour Shuttle Direct Device Support
NEWSROOM **
* MOS Support with All Socket Versions
* MOS Live Update During Prompt
* MOS Logging
* Newsroom Comment Hiding
* ENPS, OCTOPUS, iNEWS FTP, MARSIS and more supported…
(**) Mos plugin is sold separately. 
JC1 Hand Control Device 
Key Features
Push-On Control Knob
Previous, Next, F1 & F2 Buttons
USB Interface 
The Hand Controller from Fortinge is designed to be used with the ERA series studio prompters. It features a push-on control button as well as a previous, next, F1, and F2 buttons. This controller has a USB interface.