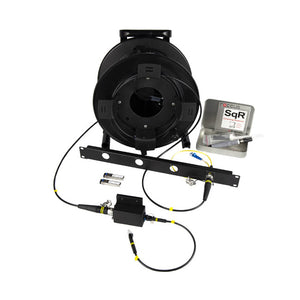 FieldCast 4K Kickstart for Blackmagic Studio Camera
Get your Blackmagic Studio Camera 4K running on fiber with this attractive FieldCast 4K Kickstart Bundle. It brings you 100 meters of flexible cable on drum plus everything you need to create a robust connection to the camera and, at the other end of the cable, to connect to your Studio Converter or Talkback Converter, including two of our high quality 12G video SFP+ units. Now you can start to implement fiber optic connectivity and profit from a 20% discount! And what's more, the moment you have convinced yourself that fiber optics is the way to go, you can upgrade to a setup for four Studio Cameras with our FieldCast 4K Upgrade Bundle and still profit from a 10% discount!
Fiber optic 4K bundle for 1x Blackmagic Studio 4K Camera.
The bundle contains:
1x FieldCast Adapter Two
1x FieldCast 2C SM UL 100m/328ft on drum
1x panel with one FieldCast 2C SM Chassis Connector
2x FieldCast 12G SFP
1x FieldCast Cleaning Starter Kit 10.