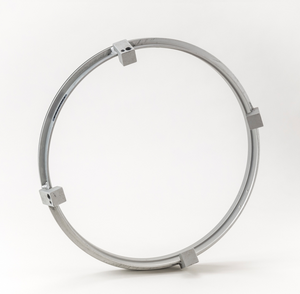 Chimera Quartz/Daylite Speed Rings feature dual pole blocks to support both Quartz Standard and Daylite Standard lightbanks. Designed to accommodate fixtures from 2,000W to 12,000W, these speed rings offer immense cross compatibility for fixtures and lightbanks. The circular mounting ring inserts into the front barn door or accessory holder of the light and can be rotated to adjust lightbank orientation.
Key Features
Durable aluminum construction
Dual pole blocks to fit Quartz Standard and Daylite Standard Lightbanks
Proudly manufactured in Boulder, Colorado
Five-year warranty against defects
Includes
20 in / 508 mm Quartz/Daylite Circular Speed Ring
Compatible Lightbanks*
Chimera Quartz Plus Small (8424/8425)
Chimera Quartz Plus Medium (8434/8435)
Chimera Quartz Plus Large (8444/8445)
Chimera Daylite Small (8624/8625)
Chimera Daylite Medium (8634/8635)
Chimera Daylite Large (8644/8645)
Chimera Quartz Low Heat Small (8424LH)
Chimera Quartz Low Heat Medium (8434LH)
Chimera Quartz Low Heat Large (8444LH)
*Final compatibility may be determined by the maximum recommended wattage of the lightbank and light combination.