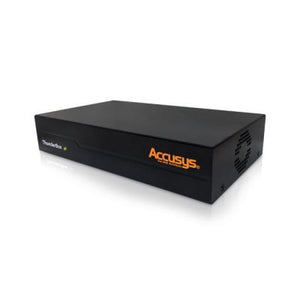 Accusys ThunderBox
ThunderBox, the PCIe 3.0 expansion box equipped with 4 PCIe 3.0 ports, not only expands the capacities but increases the PCIe/Thunderbolt 3 host numbers by connecting with Accusys T-Share RAID enclosure.
ThunderBox has dozens of workflow combinations depending on your needs,s whether it is expanding your workgroup from 4 workstations to a maximum of 16 or creating an environment that uses different operating systems such as MAC, Windows, and Linux simultaneously.
Features
Expand the Thunderbolt 3/PCIe co-editing members to 16
Enlarge the capacity to 2 Petabyte (using 8TB HDDs)
Support all T-Share Thunderbolt 3 Storages
Support PCIe Host with Accusys HBA card
Compatible with MAC/Windows/Linux
The solution for the length of Thunderbolt 3 cable and the compatibility with MAC/Windows/Linux. Currently, most Thunderbolt 3 users encounter a common problem that is the limitation of the length of Thunderbolt 3 cable, which is only 2 meters. ThunderBox, the PCIe 3.0 expansion box uses QSFP cable, which can expand to the maximum length of 100 meters.
For Linux users who can't access Thunderbolt 3 storage because of kernel restriction, by just adding an Accusys HBA card into your host and connecting with the ThunderBox PCIe port you can share your data with others in the same Accusys T-share storage. Originally, the A12T3-Share already contains 4 Thunderbolt 3 ports and 1 PCIe 3.0 port, but using ThunderBox to expand, the PCIe 3.0 co-editing users can go up to 3 and Thunderbolt 3 co-editing users up to 4.
Experience the Thunderbolt 3 speed and expand your workstation numbers with ThunderBox. Connect the PCIe ports between ThunderBox and A12T3-Shares to get a maximum of 16 workstations to work together and have access to the same volume. As a workflow suggestion, we recommend dividing the workflow into four groups to use A12T3-share indivisibly and sharing the data with other groups through ThunderBox to maximize storage performance and get the best work experience.