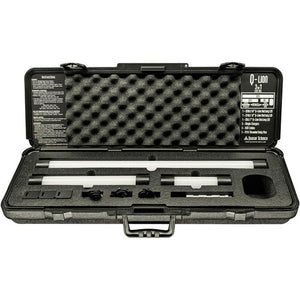 Pricing for this item includes local / State sales tax and manufacturer handling charges.
This Q-Lion Switch 3x1 Universal LED Light Kit from Quasar Science combines three portable, battery-operated, bi-color LED tube lights in a durable travel case. The kit consists of a 7", a 12", and a 24" light for creating fill and accents in both still imaging and video-based applications. These compact battery-powered lights serve as toolbelt staples for set lighting technicians, camera teams, art departments, and independent online content creators alike. They are great for lighting everything from actors to craft services, especially when space is at a minimum.
Compact and lightweight, each light may be mounted via the 3/8"-16 socket or simply stuck in place on metal surfaces with its magnetic base. Each LED light features single-button operation and the button is recessed to prevent accidental setting changes.
Key Features:
7" Q-Lion Bi-Color LED Light
12" Q-Lion Bi-Color LED Light
24" Q-Lion Bi-Color LED Light
Four 4" M10 Mounting Pins
Q-Lion 3x1 Kit Case with Foam Insert
Color Temp: 3000K/4300K/5600K, Stepped
10-100% Dimming, Stepped
Integrated Lithium-Ion Battery Operation
Multi-Voltage AC Operation