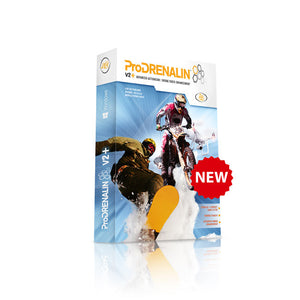 ProDAD ProDRENALIN V2+ ESD
ProDrenalin V1 revolutionized the action camera market, and the all-new ProDrenalin V2+ does it all over again – turning janky videos into cinematic gold with just a few clicks.  ProDrenalin V2+ adds a host of new advanced features and makes some old favorites even better.  
Get started fast - Import your raw videos individually or in a batch – ProDrenalin V2+ will automatically detect scenes and can batch analyze for stabilization too.
Ditch unwanted fisheye warp - selecting the camera that created the video or still image and its instantly trued-up.  Newly enhanced profiles are optimized if you want to stabilize a clip and retain the fisheye warp –the right way.  Camera profiles can be edited on the fly to fine-tune an image or adapt an existing profile to use with an non-supported camera.
Rock-steady video stabilization - now with the Mercalli V4 engine to better stabilize video while minimizing zoom-in and is tons faster.  CMOS distortion correction can remove wobbly, jiggly jello too. 3 levels of correction are possible.
Automatic image enhancement – One-click auto-enhancement brings colors to life and fixes common issues with contrast, brightness, white balance, and more.  Want to enhance more?  Professional-grade color corrections complete with a histogram and improved video de-noising are there too - and a handy magnifying glass to zoom in on parts of the video to check your changes.
Stunning video Effects – proDAD is famous for video effects and ProDrenalin V2+ has plenty of cool filter effects on tap that can be applied to a clip and fine-tuned for just the right look.
Advanced editing tools – ProDrenalin V2+ now acts more like a traditional NLE, with the ability to add clips onto a storyboard and edit with familiar NLE keyboard shortcuts.
New export options - Export in many common formats including Apple ProRes, H.264, H.265, Canopus HQ/HQX, AVI, and Motion JPEG.  Export clips individually or together as a rough-cut movie to the PC or right to YouTube.
 System Requirements                          
 Min Dual-core CPU 2.0Ghz                                                                                             
4GB RAM, 50MB HDD
Recommended Intel Corei7
8GB RAM, 50MB HDD
Windows 10, Windows 8,
Windows 7, Windows Vista
Requires 64-bit Windows
Supported Video Resolutions                                                        
SD - 640 x 480, 1024 x 768, 720 x 480                                   
HD - 720p, 1080i, FullHD 1080p                                                        
UHD – 2.7K, 4K, 8K                                                                  
Supported video INPUT formats                                          
mov; mpg; mpeg; mp4; mts; m2t; m2ts;
m2v; avi; wmv; mxf; vob; vcd; 3gp;
mkv; tod; mod
AVC/H264, HEVC/H265, Canopus, GoPro
Supported video OUTPUT formats
AVC/H264 (mp4+mov), HEVC/H265 (mov),
Apple ProRes (mov), MJpeg (mov),
Canopus HQ/HQX (avi)
Supported still image formats
INPUT- jpg, tif, png, tga, gif, bmp, dpx
OUTPUT - JPEG
Supported Audio OUTPUT formats
AAC, PCM 16bit, AC-3, Apple Lossless (ALAC)