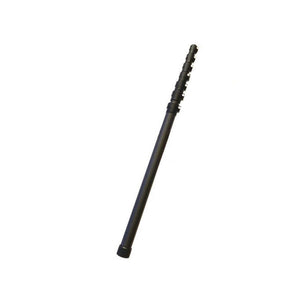 Genustech Production Pole
The Charters Pole is the brainchild of Hollywood cinematographer Rodney Charters ASC. It is a multi-purpose lightweight carbon fiber pole that can be used on any production.
That high angle shot impossible to get any other way can now be achieved using the Charters Pole.
Unlike a regular audio boom pole it is designed to carry a range of objects and has an adjustable thread length on the top point that you would fix your equipment to. This feature allows for versatility in fixing 3/8" as well as ¼ 20 screw threads, and with different depths. Yes, you can alter the screw length to suit the product being supported!
The Charters Pole can be used to support a lightweight brushless gimbal, small VR cameras, a small compact camera or GoPro for photography, small lights, flexible LED panels or a microphone. Optional accessories will allow the pole to be clamped or attached to objects for greater stability. Some cameras and gimbals will require specialized mounting and third party accessories for attachment.
It has a unique combination of price, construction and performance that separates it from all other poles on the market.
When adding the Charters Pole to your cart there is a choice of two sizes. The 6m Production Pole (closed length 1m) and the 4.35m Compact Pole (closed length 0.8m). The Compact Pole has been designed to fit into most large suitcases and is therefore great for those wanting flexibility in travel.
The carbon fiber used is strong, yet lightweight, and is lightly ribbed to provide a firmer grip. Rodney is acclaimed for his work on '24', Dallas,Shameless and The Last Ship, he has also shot many documentaries and more recently a major motion picture with Michael Caine and Morgan Freeman. An avid adopter of new technologies Rodney has already tested the pole on several big productions. He said "I designed this pole to be the most practical, yet affordable production pole on the market. Great for productions big and small. I've used it for video, lighting and photography. I'm sure users will find even more applications and I'm really excited to see how it's used in the real World.
Like any pole, The Charter's Pole must be used with due caution. Do not use the pole within 50m of overhead wires. Contact with electricity can result in serious injury and death. Care must be taken to avoid other objects and persons who may be injured if coming into contact with the pole. Do not use the pole over persons, animals or property that is outside of your control. Do not use in any area where you where you do not have appropriate permissions or rights to use. Do not use in high winds or thunderstorms.
It is not a toy and serious injuries may occur if used incorrectly. The operator must exercise extreme caution to avoid injury to themselves either by collision or trip hazard.
The Charter Pole / Production Pole / Compact Pole
Max Height: 6m / 19.6ft 4.35m / 14.2ft
Min Height: 1m / 3.3ft 0.8m / 2.6ft
Sections: 8 8
Max Diameter: 4.6cm / 1.8in 4.6cm / 1.8in
Min Diameter 2.3cm / 0.9in 2.3cm / 0.9in
Rod Material: High Quality Carbon Fiber / High Quality Carbon Fiber
Net Weight: 1.77kg / 3.9lb 1.44kg / 3.2lb
Max Load: 500g / 1.1lb 500g / 1.1lb
Temperature Range: -20°C to 50°C -20°C to 50°C